Menu
Watson Branch
9:00 a.m. - 8:00 p.m.
South Branch
9:00 a.m. - 6:00 p.m.
Main Branch (Livingston)
9:00 a.m. - 6:00 p.m.
Albany - Springfield Branch
9:00 a.m. - 6:00 p.m.
Denham Springs - Walker Branch
9:00 a.m. - 9:00 p.m.
Item request has been placed!
×
Item request cannot be made.
×
Processing Request
Meeting Room Overview
Meeting room reservations can now be made online with Spaces, the LPL's new meeting room reservation service! Read the full patron guide in the tab below for more information or click here to get started.
Step 1: Creating an Account and Logging In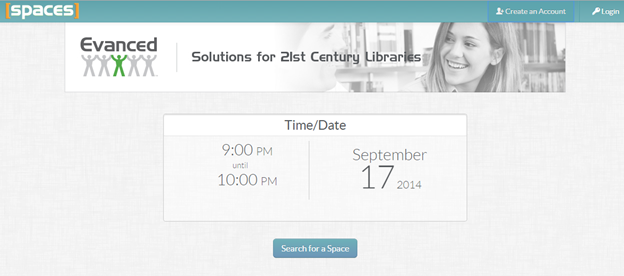 Once you get to the Spaces home page, you can create your Spaces account. This is required before you can reserve a room. The "Create an Account" button is at the top-right corner of the screen. You'll need to enter your name, e-mail, password, phone number, and the primary branch to create an account. An e-mail address is required in order to receive updates on reservation status.
After filling out the account form, you'll receive a confirmation e-mail. After clicking the link in that e-mail, you can login with your e-mail address and password.
Step 2: Patron Account Page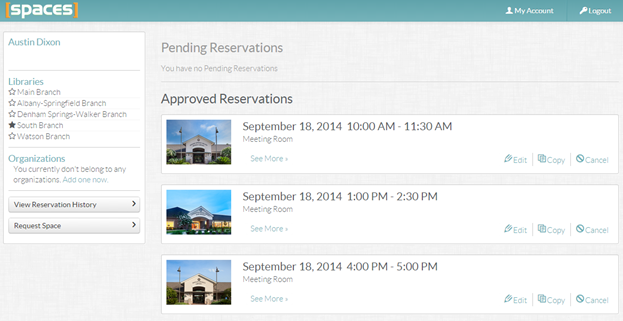 From the account home page, you can edit your personal information, view a list of your approved and pending reservations, and reserve a room. You can also edit existing reservations. Edited reservations need to be re-approved by library management. To start the room reservation process, click the "Request Space" button on the left. You can also link your patron account to different organizations by clicking the link in the Organizations section. You'll have the option to create a new organization or join any that have already been created in our system.
Step 3: Making a Reservation Request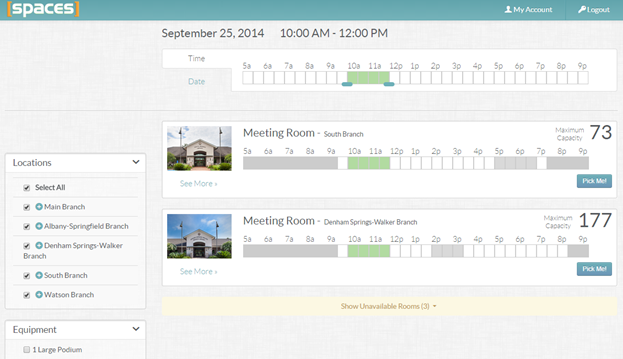 Clicking the "Request Space" button will direct you back to the Spaces home page. There, you can click the times and date to see what rooms are available at that time. Click the blue search button once your time and date is set.
After clicking the search button, you'll be forwarded to the room selection page. You can adjust your reservation time and date by adjusting the slider at the top of the page. (Click "Date" to edit the date.) If your time slot is available at a branch, it'll be shaded green. Rooms that are unavailable at that time will not be displayed. Click "See More" for more information on a meeting room.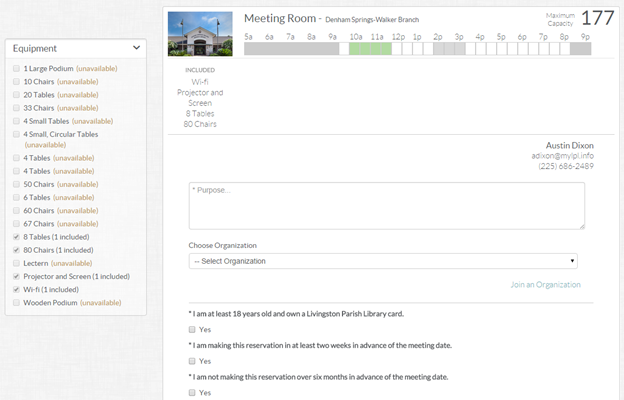 The room list can be sorted by both equipment and location. To sort the room list, click the check boxes on the left side of the screen. Patrons can then choose a room by picking the blue "Pick Me!" button.
Once a room is selected, the you must fill out the purpose of the reservation request. Please include your organization name, what you're using the meeting room for, and any other important information. There's also an option to "Choose an Organization." If your organization has already been created, you can select it from the drop-down box or "Request to Join" by clicking the link on the right. Your request will be automatically approved. If you need to create a new organization, click the link at the bottom of the pop-up box, after creating it, choose it from the drop-down box on the registration form.
You must also agree to the library's meeting room policy and stipulations by clicking each checkbox. The full policy is linked through the "Terms and Conditions" text. You can then submit your reservation request by clicking the blue submit button.
Step 4: Waiting Period
You'll be notified via e-mail when your reservation is reviewed. You'll receive either an approval or denial notice, along with comments from library management.
Reservations must be submitted at least two weeks ahead of time and not more than six months ahead of time. If your request is denied. You can edit and resubmit it to comply with library policy or request a different time or date.